Infant Program – Baby Bugs
At ABC Early Learning Academy, our Infant program "Baby Bugs" emphasizes individualized care by nurturing caregivers. Our caregivers are experienced and trained to be responsive to the needs of growing children. Plus, they love what they do!
They provide for each stage in the infant's development, encouraging language acquisition, appropriate social interaction and sound physical growth, all in a colorful, multi-sensory environment.
Our Baby Bugs infant program serves children 6 weeks to 1 year old.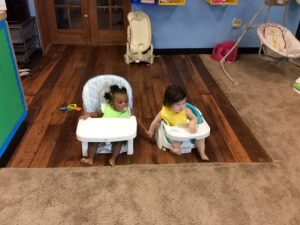 It is imperative to give your child a foundation in early education, even as babies. Invest in your child's learning, behavior, and health to help create a thriving future. Educational childcare, helps socialize and give structure to your child to help with the transition to the educational system: school!
We have 3 convenient ABC Early Learning Academy locations.
Come by for a tour and explore, or Contact Us today to learn more!